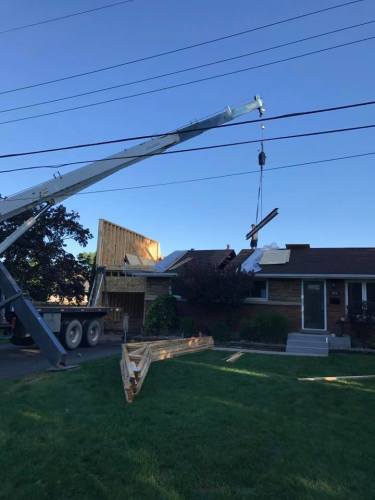 Finding the perfect house in the perfect location can be tough! Maybe you had the perfect place and still love your location but your family has grown, or you need space to work from home, or there's just not as much space as you thought when you first moved in. Whatever the reasoning do't give upa nd call a Realtor JUST yet; there's still hope for your beloved home! We can help you fall in love with it all over again.
Our renovation team has built a wide variety of additions for many clients, all with different needs and variations in budget. We've even turned a bungalow or two into two-storeys! Our design team will meet with you, discuss what you're lokoing for, assess the potential scope of the project, and eventually propose a design. We are passionate about our work and are committed to making sure you love your home again when we're finished with it.
"We hired Property Rehab to renovate our house. We started from scratch and changed everything. We wanted the land but not the house so it was a big job. I can not tell you how happy we are. Roger is very creative and had some great ideas that we didn't think of. He would suggest a different option if certain things like for instance paint, so we didn't see finger prints and colors so the walls didn't look stark white, but soft white. He's very intuitive and was able to understand who I was and how I like things.
Property Rehab went over and above what needed to be done and was so proud to show us their work.
We had some uneven flooring which I thought I'd have to live with but they were able to fix it. We are so confident with Roger and his crew at Property Rehab that we are going to Belize and leaving them with a complete other renovation on a high end rental unit we own.
We are over the moon happy with Property Rehab!" - Sandra from Crystal Beach
Have questions? or visit our Facebook page for more.
Ask a Question
View our Facebook