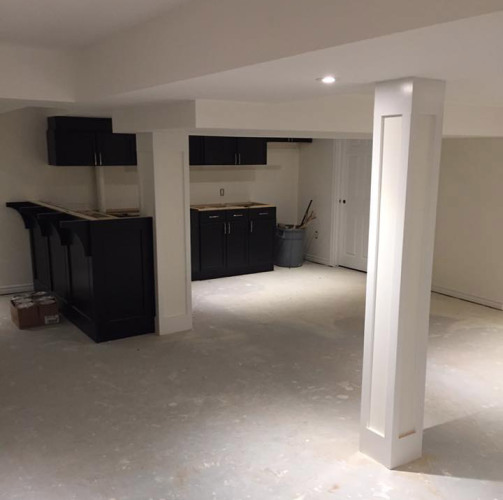 Looking to turn that dark old basement into a living space? Has your home had water damage and you're hoping to restore that den to its former glory? Restoring your basement can add a significant amount of living space in your home and exponentially increase the value of your property.
Our renovation experts can lead you through the basement restoration process and take you through each detail of the renovation. Our renovation team can meet with you first to determine a layout and how to properly use the space. We'll then get to work on designing and creating a comfortable basement for your family to enjoy for years to come.
Keep in mind too that giving our designers your personal ideas on how you would like it to be laid out is essential to ensure that its "your" space. Whether you'd like to incorporate a mud room for laundry or add an additional bathroom…all of these ideas factor into the layout.
"Roger, the owner of Property Rehab, is the best contractor I have ever dealt with. After a large scale renovation of my previous home in Toronto back in 2015, I was understandably wary of attempting any sort renovation in my new home but Roger made the whole Process, simple and relaxed.
The home I bought in St Davids had an unfinished basement that flooded spectacularly at the first sign of rain, but he turned it into a dry, beautiful, one bedroom apartment, complete with a gorgeous bathroom and kitchenette/wet bar. He worked with me to design the renovation, made excellent recommendations, and provided a detailed estimate. I knew he was the right choice when his estimate included plans for several permits and scheduled payments as work was completed. I was asked for input to and approval on each stage of work.
Roger was personally involved in each phase of work, ensuring everything was done to the highest quality and standard of work. He often added little quality of life upgrades where needed; He added a built in cupboard in the bathroom and put up wonderful rods and shelves in the walk in closet for no added charge. My past experience was that renovations had to be endured but I totally enjoyed this experience. Roger's team (especially Sheryl and Steve) are amazing, friendly and expert at their jobs. I actually miss them coming each day." - Michelle from St. Davids
Have questions? or visit our Facebook page for more.
Ask a Question
View our Facebook