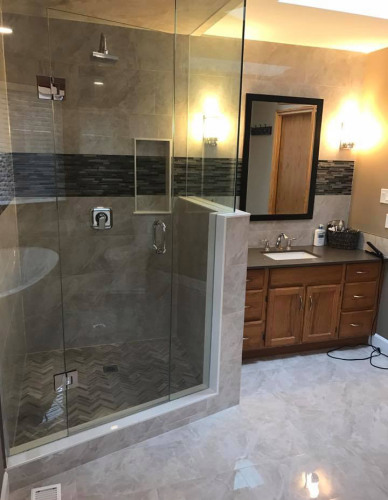 Few rooms in the house are as important as the bathroom. Whether you're preparing for the day ahead or relaxing in a hot bath at the end of a long day. A bathroom has to perfectly balance design and functionality in order for it to work. That's where we come in. Our team will work with you to understand your unique needs and get a sense of your design tastes to deliver the bathroom of your dreams.
From custom showers to free standing tubs, creative tile work to light updates and so much more – our bathroom renovation team will be sure to create a bathroom that serves as the ultimate personal space for you and your family.
"Roger has a great team! From start to finish they walked me through the process and were willing to work with my ideas. They are very knowledgeable and also made great suggestions. I was a little nervous finding someone online, but everyone was honest and I felt like I could trust them. All professional. I will definitely call them for any future needs!" - Craig from St. Catharines
Have questions? or visit our Facebook page for more.
Ask a Question
View our Facebook