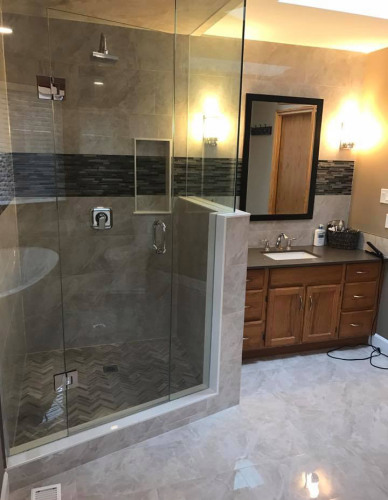 One of the most important rooms in your home, we know that a bathroom has to perfectly balance both design and functionality. Where else do you both prepare for the daily grind and then relax and unwind in tranquility? We will help you maximize both ends of this spectrum in one beautiful space.
Our team will work directly with you to understand your unique needs, get a sense of your design tastes, and then deliver the bathroom you've been dreaming about.
Just think: anything from custom showers to free-standing tubs, creative tile work to spectacular lighting. Property Rehab's creative team will help you realize your vision for these and so much more, ultimately delivering a perfected bathroom space for you and your family.
"Roger has a great team! From start to finish they walked me through the process and were willing to work with my ideas. They are very knowledgeable and also made great suggestions. I was a little nervous finding someone online, but everyone was honest and I felt like I could trust them. All professional. I will definitely call them for any future needs!" - Craig from St. Catharines
Have questions? or visit our Facebook page for more.
Ask a Question
View our Facebook