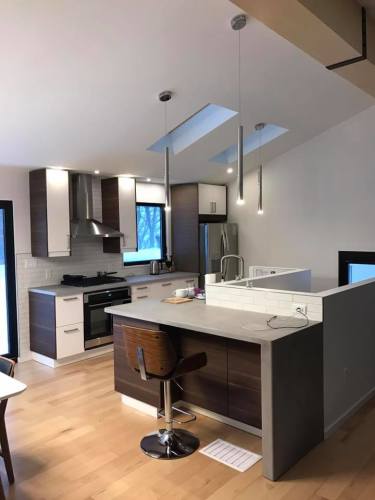 Kitchens are a place in the home where families gather and good conversations are had. A well designed, high end kitchen can also increase the value of your home and a beautiful kitchen is often considered a huge selling feature.
Our kitchen renovation team are experts when it comes to taking advantage of your space and can guide you through the entire renovation process – from design to demolition to the installation of your new kitchen – there's nothing our expert renovation crew hasn't done. Ready to get the kitchen of your dreams? Let's get started!
"We had Property Rehab (Roger and his work crew) do major renovations on our home. Our ideas were expressed to Roger on our first meeting and I am happy to say that Property Rehab definitely made the vision I had for my home come to life!
We were very impressed with how quick Property Rehab managed to complete the demolition part of the renovation. We decided to have walls torn down and kitchen torn out while we were on vacation. When we returned, we were impressed that all the demo was done and our home wasn't a disaster zone. The dust, tools and debris had all been cleaned up and everything was ready for the work to begin.
Throughout the project we found that Roger explained everything that was happening and was very helpful with even the smallest details. We appreciated the fact that Roger encouraged our vision and made practical, affordable and knowledgeable suggestions to guide us through the hectic and sometimes confusing world of home renovation.
We are so happy with all the work that has been done inside and outside of our home and we will be hiring Property Rehab again in the future!" - Anita from St. Catharines
Have questions? or visit our Facebook page for more.
Ask a Question
View our Facebook